EPCOT Centre
First of all – do you know what EPCOT is an Acronym for?  There are a lot bandied about – my favourite being  Every Person Comes Out Tired!
EPCOT stands for Experimental Prototype Community of Tomorrow.  This park was something Walt Disney had envisioned but sadly didn't get to see before he died.
Our Top Tips for visiting EPCOT Centre!
On entering the park make sure that you grab a map, and a show schedule, remember to mark off any shows you want to see, and make a mental note of the time for the Fireworks and laser show.  The park is split into two distinct areas 'Future world' and 'World Showcase.'    The World Showcase area  tends to open a little later than 'Future World'
The big iconic Globe is home to the slow moving journey of communication through time from the Stone Age, the Egyptians and Romans and on through to the creation of the Printing Press and modern technology.  If when you approach 'Spaceship Earth' the line is short ride it right away.
Future World
Usually best to head off towards the more white knuckle of the EPCOT Attractions Test Track and Mission Space and check the lines or get a Fast Pass.  Next head over to Universe of Energy – look out for the Dinosaurs! 
Don't forget to check out the Living Seas, where you can had a chat with Crush the Turtle from the Disney Movie – 'Finding Nemo.'
 The Land Pavillion is home to 'Listen to the Land' a great little boat ride where you can find out about how NASA is working on growing food in Space as well as learn about hydroponics.  Within the Land pavillion you will find 'Soarin' even the line for this ride is a lot of fun.
There are lots of places to eat in EPCOT but The Land, foodcourt is great as there is so much choice everyone can get what they like.
You might want to make a reservation for Dinner later at the unique revolving restaurant.
After Lunch head over to the big glass pyramid that houses 'Imagination.'  On the way there look out for the Water 'up' and the jumping fountains.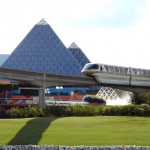 World Showcase
Next head over to the World Showcase, start at Canada and work your way around. anti clockwise.  Each country funds its own showcase and is staffed by it's nationals.  Great Britain features a pub and a Fish and Chip Restaurant.  Beware the price for a pint is far more than in your local! 
You will find each country has some form of entertainment from 360 cinemas to street theatre and performers as well as Norway and Mexico having very different river rides.
We reccommend that you get a spot ready for the firework and laser show about an hour before it is due to start.  Great viewing spots are opposite the American Pavillion on the Future World side of Seven Seas Lagoon, or on the bridge as you approach or leave Paris.  Depending on the size of your party, you might want to set up 'base camp' and take it in turns to revisit attractions in Future World or any you might have missed.
Enjoy the Firework and Laser show it really is a fantastic spectacle.
If you have anything to add or a comment to make we would really love to hear from you!
Tips
*Thirsty and hot?  Why not take a time out in the Coca Cola sponsored pavillion where you can try out soft drinks from all over the world.
*It is possible to book a boat cruise in the evening to take you onto the water and watch the firework and laser spectacular.  The launches leave from Disney's Yacht Club and must be booked well in advance.
*Make sure you keep an eye on the display boards around the park for the latest wait times for rides, and attractions, as well as the scheduled times for the shows.