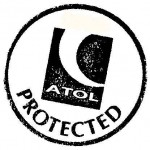 ATOL – Air Travel Organisers' Licensing – Which is operated by the UK's Civil Aviation Authority provides financial protection to over 28 Million consumers who book air holidays and flights with tour operators and travel organisers every year.
So why should you book with an ATOL agent?  Does it Matter if you don't book with an ATOL agent?
When you book a holiday you should always find out if the tour operator  you are booking with is ATOL protected.  It is easy to tell as the ATOL logo with the ATOL number must be displayed on advertisements, websites and brochures.  Once you have booked you will get a holiday confirmation invoice showing the operators ATOL number.
A travel agent should tell you which ATOL tour operator is protecting your holiday, your reciept should show the relevant ATOL number.
Did you know? – If you book your holiday direct with an airline including budget airlines you will NOT be ATOL protected.
You may be covered by your credit card if you spend over £100 check with your credit card company.
Neither are you protected if you book through an airline ticketing agent and recieve a ticket within 24 hours.  You should consider taking out insurance that will cover you against airline failure.
If you book your holiday on the internet and shop around booking your flight with 1 company and your accommodation with another and your car hire with yet another.  If the company you booked with in this instance is ATOL protected only your flights will be protected meaning if the other companies collapse you could be left out of pocket for extra hotel accommodation, car hire and other components you might have booked.
Booking all the components for your holiday with an ATOL agent makes sense. You will be fully protected if any element of the holiday goes wrong.  Either before you travel or while you are away if there is a problem your ATOL agent must sort it out and provide you with help and assistance.
You can check www.atol.org.uk or call 0207 4536430  DJW Flights and Rental's ATOL number is 5100